Ahmaud & Timeline of Events
When Ahmaud appeared at the English property on the afternoon of February 23, 2020, it was the first time he is definitely known to have visited that property during daylight hours. Moreover, it was also almost certainly the first time that he had been seen jogging in the Satilla Shores neighborhood at any hour. It is important that people understand that the Georgia Bureau of Investigation (GBI) did a canvass of the residents in Satilla Shores trying to substantiate the claim that Ahmaud routinely jogged in the neighborhood. This canvass involved interviews with dozens of current and former residents of Satilla Shores, and exactly one person claimed she'd seen him running in the neighborhood. The former resident was on the State's witness list but never testified at trial. Why, you ask? While it is supposition only, I can't help but believe the resident having a 300-page Glynn County PD file on her and her family contributed to the prosecutor's decision not to call her at trial.
Ahmaud was captured on video lurking around Larry English's property four times during the dead of night. Even though the English surveillance video clearly depicts Ahmaud, one might get the false impression that Ahmaud was simply looking around the house while it was under construction. The problem with this thesis is that the house had no interior lighting and his features on video would be completely indiscernible if it were not for the up to nine infrared cameras that Larry English placed on his property AFTER having expensive electronics and other items stolen from his boat.
While we don't know why Ahmaud spent 4 minutes and 58 seconds on the English property on February 23, we know that he wasn't in the home to steal, if his mother's account to Shaun King is to be believed. Ahmaud's mother, Wanda Cooper-Jones, was interviewed by civil rights activist and trumpeter for Black Lives Matter Shaun King on May 5, 2020. (This date, coincidentally, is the same date that Governor Kemp brought the GBI in to take the case over from the Glynn County Police Department.) During the recorded interview, which has now been removed from the Internet (but see below), Shaun King asks Cooper–Jones why she felt lied to by the Glynn County Police when told that Ahmaud had been shot and killed while burglarizing a home and during a fight over a gun with the homeowner. Cooper–Jones explains that "…he [Ahmaud] knew better than to rob somebody at one o'clock in the afternoon, on a sunny Sunday afternoon." Fortunately, we were able to salvage a clip of her statement before it was purged, and you can see and hear Wanda's remarks below.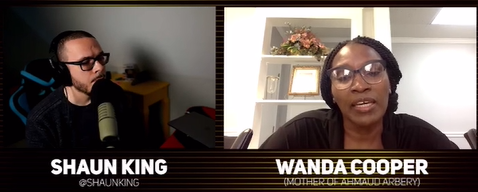 Yes, Ahmaud, according to his own mother, knew better than to steal during daylight hours. Then why would he visit during the daytime? It's difficult to steal something unless you know that it's there. Any good thief would know that a daytime reconnaissance trip could pay off during a subsequent visit under the cover of darkness.
But there is more about Ahmaud that the public has never seen or heard. He once had an Instagram account that was full of pictures of him and others displaying apparent gang signs. Like the Shaun King video, Ahmaud's Instagram account has been permanently deleted, but we were able to obtain some photos before that happened. Click on any of the thumbnails below to display a full-size version. Then ask yourself if Ahmaud has been portrayed accurately by mainstream media.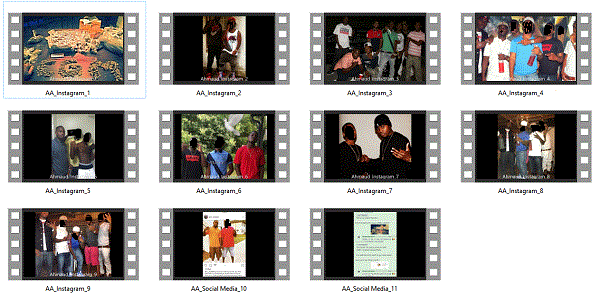 Ahmaud Arbery has been repeatedly characterized as a fun-loving, kind, sweet young man who would "give you the shirt off his back." And it is true that by all accounts, he was a fair student who was well liked and who loved sports, including football. His 2012 high school graduation photo (shown here), broadcast hundred, maybe thousands, of times by media worldwide, seemingly depicts a happy young man wearing a ball cap and smiling broadly.

So, what happened? How did this handsome young man with what were surely hopes and dreams change from that smiling graduation photo to the person that his own mother began to fear at times?
There have been frequent, yet unsubstantiated, rumors that while Ahmaud was attending a party not long after graduation from high school, someone spiked his drink with a substance that caused profound changes in his personality. Even if something like that did happen, we can't know the extent of its effect, if any, on Ahmaud.
We do know, however, through videos, photos, documents, social media posts, police reports and witnesses, that Ahmaud began down a horrible path in 2013 that ended with his death in a quiet Glynn County neighborhood on February 23, 2020. We also know that before Ahmaud's death, he was violent at times and frequently confrontational with many people, including his mother, fellow students, law-enforcement officers, and even complete strangers. These unsettling encounters took place at school(s), Ahmaud's home, on private property, commercial establishments, and other places.
There were not just "one or two bad days" in Ahmaud's life between 2013 and February 23, 2020, as most of the media reported. In fact, little attention has been given to Ahmaud's actions and behavior during this period. Amazingly, the court ruled that Ahmaud's violent tendencies and mental health problems were not relevant to the case, and the jury was not allowed to know any of it. Instead, the theme of the trial stayed with the ongoing media narrative of "Black jogger murdered by white vigilante racists in a predominantly white neighborhood."
Please review the following and decide for yourself if Ahmaud was the person that the mainstream media has portrayed.
---
March 14, 2013
Ahmaud was a student at South Georgia Technical College when he and fellow students engaged in what was tantamount to a gang fight. He is seen on surveillance video wearing a white sleeveless T-shirt passing out pliers and other tools and then instructing other combatants on using the tools as weapons. Moments later, several cars filled with young men arrive at the campus and engage in a brief, but vicious, fight with Ahmaud and other students. Ahmaud is struck with a baseball bat. At least one of the combatants ended up at the local hospital emergency room with serious injuries. For more details:
---
December 3, 2013
Ahmaud appeared at a Brunswick High School basketball game, and an on-duty police officer noted a pistol tucked in Ahmaud's waistband. He ran from the officer and discarded the gun before being stopped and arrested. The gun was found to have had the serial number filed away. A pursuing officer sustained slight injuries during the pursuit and arrest. Arbery was charged with multiple violations in this incident and jailed. On May 11, 2015, he received a five-year probated sentence for Obstruction of an Officer, Carrying a Firearm without a License, and Carrying a Weapon on School Property. For more:

---
February 24, 2014
Glynn County Police Department records identify Ahmaud as a suspected gang member.
---
February 2, 2017
Ahmaud was arrested for violating the probation received for the gun incident at the Brunswick High School.
---
November 11, 2017
Glynn County Police Officer Michael Kanago found Ahmaud sitting in his car in an area known for drug activity. Ahmaud became hostile toward the officer during the investigatory stop, especially when the officer sought to check Ahmaud for weapons. At one point, Ahmaud said to Officer Kanago, "You're bothering me for nothing." Kanago told him that he was looking for criminal activity, at which point Arbery said, "Criminal activity? I'm in a fucking park. I work!"

Body camera video showed Arbery shouting at Kanago: "You hit me with that shit, bitch, you gonna be fucked up!" Ahmaud was released a few minutes later. His driver's license having been found to be expired, he was not allowed to drive away and instead ran from the scene.
Video of the incident has appeared on various websites.
---
December 1, 2017
Ahmaud and two juveniles were arrested at the local Walmart after they were caught taking a Vizio flat screen television valued at $798.00. Ahmaud was charged and pled guilty to felony Theft by Shoplifting on February 16, 2018. He was on probation for this case at the time of his death.
---
June 17, 2018
Interviewed by the GBI and FBI, Ahmaud's mother admitted that Ahmaud would frighten her at times. On June 17, 2018, she phoned Glynn County 911 after an incident where Ahmaud refused to turn over her car keys.
---
August 24, 2018
Ahmaud was visiting his grandmother's home in Burke County when Burke County Sheriff's deputies received a call about him trespassing onto property belonging to a law-enforcement officer. The Burke County deputies visited Ahmaud's grandmother's home where they served Ahmaud with a formal trespass warning. During the encounter, Ahmaud became agitated and aggressive toward the deputies. At one point, he told the deputy that he [Ahmaud] would "whip his ass." The threats made by Ahmaud can be heard approximately five minutes into the video.
---
October 23, 2018
The Burke County Sheriff's Office received a call about people trespassing inside an unoccupied mobile home. When the responding deputy arrived, Ahmaud and two juveniles fled from the trailer. The deputies caught and detained Ahmaud after a brief chase and charged him with Obstruction of an Officer. The charge was pending and awaiting disposition at the time of Ahmaud's death. For more:
---
December 11, 2018
Accompanied by his mother, Ahmaud appeared at the Glynn County Probation Office for a scheduled meeting with his probation officer. Ahmaud angrily denied knowledge of being on probation for the shoplifting case. His mother expressed concern over Ahmaud's behavior. The probation officer, as a condition of Ahmaud's probation, ordered a mental health examination.
---
December 14, 2018
Ahmaud underwent a mental health examination at Gateway Behavioral Health Services in Brunswick. He was diagnosed with Schizoaffective Disorder with command hallucinations that he says sometimes told him to hurt people. He was prescribed medication, but there is no evidence that he followed up with scheduled appointments. (Note: Probation and mental records are not publicly accessible. However, statements made on this website are based on a review of the records received during discovery of the case.)
---
March 14, 2019
Ahmaud told his probation officer that he wasn't taking the medication prescribed during the December 14, 2018, mental health evaluation because it upset his stomach. There is no evidence to indicate that the probation office or family took further steps to get Ahmaud treatment for his apparently worsening mental health.(Note: Mental health records are normally confidential under HIPAA. However, the diagnosis in Ahmaud's case has been made public.)
---
October 25, 2019
Ahmaud was captured on surveillance video pilfering on the dock behind the home of Larry English. This is the first documented time that Ahmaud was seen on the English property and in the Satilla Shores neighborhood.
---
November 18, 2019
Ahmaud was captured on surveillance video for the second time in complete darkness at the home of Larry English. There are two video clips.
---
December 17, 2019
For yet a third time, Ahmaud was captured on surveillance video in complete darkness at the home of Larry English. There are three clips from this occasion.
---
January 1, 2020
Travis reported that a pistol had been stolen from his truck. There was confusion as to the specific time the gun was taken. However, a neighbor in the adjacent Royal Oaks subdivision also had a vehicle entered at or near 4:00 a.m. the same day, and several expensive items were stolen. While fleeing, the thief left a black bandana on the ground, which was recovered by Glynn County PD. Video was taken of the incident. Although Ahmaud cannot be identified, the person in the video is of a similar size, and Ahmaud frequently wore a black bandana around his neck. Law enforcement has not requested testing of the bandana for the presence of DNA.
---
February 11, 2020
Ahmaud was seen by Travis outside the home of Larry English. When Travis shone his headlights on him, Ahmaud intimated that he might have a weapon. Travis called 911, but when the GCPD responded, Ahmaud was nowhere to be found. Video of the incident is available as is the recording of Travis's call to 911. I urge you to listen to the stress in Travis's voice as he talks to the 911 dispatcher and ask yourself if the encounter with Ahmaud wasn't worrisome.
---
December 2019 – January 2020
Ahmaud was identified as frequently running into the Love's Truck Stop at Exit 29, grabbing candy and snacks from the shelves, and fleeing before he could be stopped. Ahmaud's identity wasn't known until the news media reported his tragic death, but several employees recognized him on sight. One of the store's managers, who has worked there for more than a dozen years, stated that Ahmaud stole from the store at least ten times before she stopped him one day and banned him from the store. However, he would return when she was not working and continue taking candy and snacks while running in one door and out the other.
In late December 2019 or early January 2020, a local businessman's teenaged stepdaughter was working at a nearby grocery store when she confronted and tried to stop Ahmaud after he stole food items from the store. Ahmaud threatened the teenager, and she shared her experience with her stepfather. The man didn't know Ahmaud's name, but he knew of Ahmaud's reputation for stealing from Love's. Understandably upset about the threats made to his stepdaughter, the man confronted Ahmaud outside Love's Truck Stop a couple of days later. This confrontation led to a physical altercation that was captured on cell phone video. Like many other potential witnesses for Greg and Travis, the stepfather became so concerned by the threats and intimidation tactics of certain groups after Ahmaud's death that he refused to show up in court after being subpoenaed.
---
There are several other instances where Ahmaud stole from small businesses and was caught trespassing on private property--including peering into windows and rattling locked doors. At least two witnesses to these events left town and evaded subpoenas out of fear of being attacked online or even physically. Many of our neighbors, family members, and supporters have been subjected to such vile attacks and threats for speaking out against the official narrative: "Black Jogger murdered by white vigilante racists in a predominantly white neighborhood."
---
Note: Some of the events posted in this timeline have not been definitively connected to Ahmaud Arbery because to date law enforcement has generally ignored them. In at least one incident, the authorities have refused to investigate and determine if Ahmaud was linked to theft of firearms from vehicles in Satilla Shores and neighboring Royal Oaks on January 1, 2020.